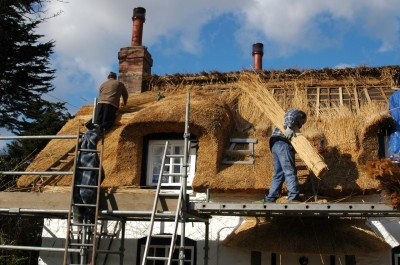 Building Survey, Piddletrenthide Nr Dorchester
February 2017 – Older properties can often present a more complex range of considerations and issues, and this Grade II Listed traditional thatched cottage was no exception.
One quite unusual feature of this house was the height of the doorways, ceilings and exposed beams, something to bear in mind when thinking about re-sale as taller prospective buyers may not wish to continually hit their head!
On a more serious note, our Building Survey revealed many points of interest, and Wessex Surveyors advised our client to carry out further investigations to explore in more detail some potential hidden structural issues.
We were of course able to outline the nature and extent of the works anticipated, but in taking on a property such as this its best to be well armed with the facts before purchase.  In addition, we flagged up that the proximity of the house to the River Piddle should be seriously considered, as flood risks can also prove a serious deterrent to prospective purchasers.