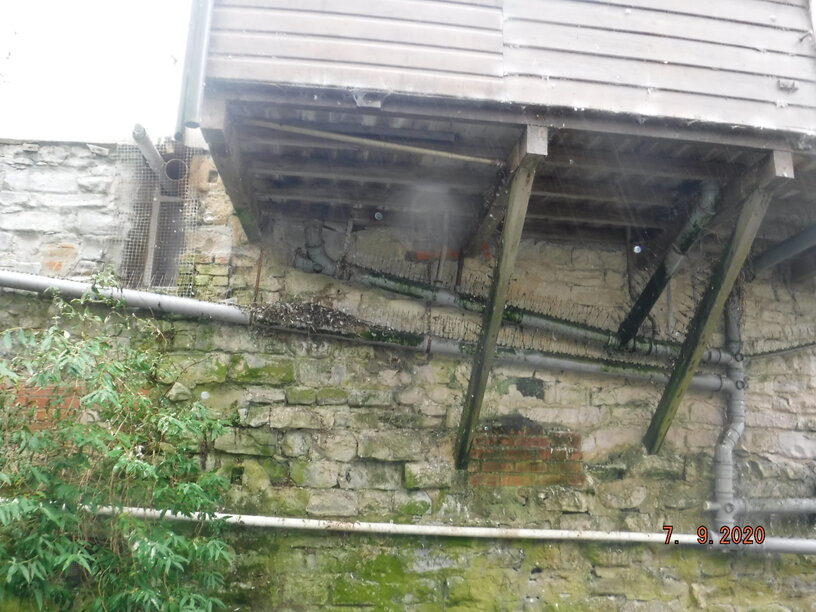 On a recent Level 3 Building Survey in Lyme Regis the surveyor discovered that the bathroom was suspended over the river at the back of the building!
He said "The external main walling to the rear extension comprises timber clad timber studwork supported by timber joists protruding from the rear wall elevation. The ends of the joists are supported by timber angled struts bearing onto the wall. There are three struts/joists supporting this rear extension. One of the struts is missing at the northern end. It is likely that one of the struts has been damaged, perhaps during storm damage and possibly river – if it goes that high! It needs replacement sooner rather than later to prevent weakness/movement to the corner of the rear jettied extension. At the same time, improved connection/fasteners at the bearing point for the angled timber struts are advised perhaps with metal fixings embedded into the wall to prevent movement of these important, angled timber struts that support the jettied extension.
The external main walling to the jettied rear extension is a simple lightweight timber stud walling with external cladding/weatherboarding. This would benefit from maintenance in future to upkeep its condition. Access to carry out such works will prove difficult due to its overhanging nature into the river. Furthermore, the external main walling is likely to be rudimentary and basic. Old timber stud/timber clad walling of this nature is unlikely to benefit from modern weatherproof barriers and insulation. There is therefore likely to be scope for replacement and upgrading of this timber stud walling in future to improve the internal accommodation. This should be replaced sooner rather than later as it potentially causes a structural weakness to the overhanging, jettied extension".