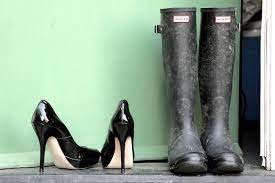 The rush to buy a new home in the country
Ever since Lockdown 1 was eased in June 2020 there has been a mad rush to leave the City and buy into the rural idyl of the South West, but will this last or will it all come crashing down around our ears?
The pandemic has created an unprecedented move from city centre living to the countryside, not just for a second home but relocating entirely, with people assuming that they will be able to continue working from home, avoid Covid and enjoy the quieter life.
And now there is a limited number of houses on the market, selling at great speed – are buyers putting enough thought into their new home?
The concern is what happens when the 'working from home' job changes – the broadband isn't fast enough, the home worker misses out on the promotion given to the person willing to go into the office, the camaraderie of the office is missed, there are no comparable jobs/salaries within a reasonable distance? What happens when they get tired of the beach/walking in the countryside/no sound but the nearest cow/cockerel? Where is the nearest decent restaurant/cinema/theatre/takeaway? Where is the nearest motorway (in the case of Dorset there is NO motorway!).
Prices have been forced up by the unprecedented demand, causing people who hadn't previously considered it to put their property on the market to take advantage. Tenants are being given notice so that the house they live in can be sold and this is causing a shortage in properties to rent with owners preferring to sell than let.
In the short term, higher property prices may seem like good news for the seller and for the agent's marketing the properties, but most sellers will need to buy and will be looking at a vastly restricted market at higher prices. Local first time buyers are priced out of the market and are looking at a very restricted rental market.
The Government has been encouraging this stampede with the stamp duty holiday and helping buyers to take on debts that may not be sustainable through help to buy and first time buyer schemes.
How long will it be before it all comes crashing down around our ears??