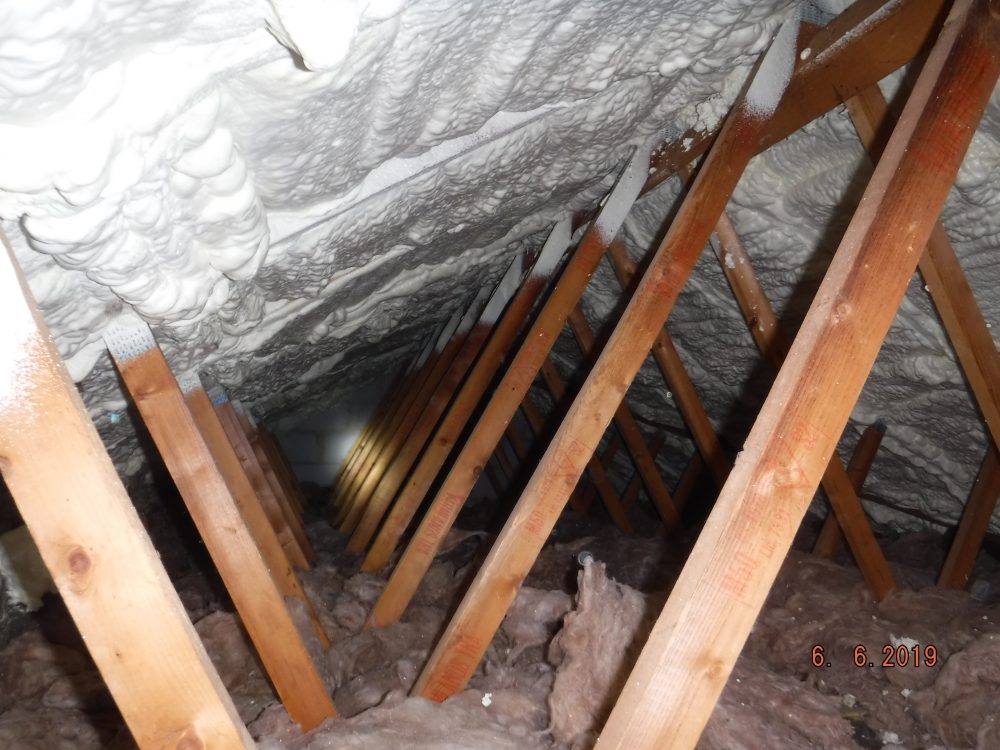 Our surveyor recently did an ISVA HomeSurvey on a 1980's property near Sherborne. When he inspected the roof space he was dismayed to find that the underside of the main roof covering was hidden from view. In recent times, a spray foam insulation had been applied to the underside of the main roof covering, concealing parts of the roof structure and the likely roof underlay. This is not considered best practice by most surveyors. Furthermore, it is likely that some lenders may have difficulty in accepting such a property for mortgage/finance purposes unless the foam insulation is removed and the roof made good. As a result, the surveyor felt that this affected saleability and value of the property.
He advised that before purchase further details regarding the specification and warranties relating to this retrofit insulation should be sought. In the worst case scenario, he felt that provision should be allowed for removal and repairs and/or replacement of the roof where necessary. However, to put matters into perspective, he felt it was unlikely that this retrofit insulation would cause a significant problem in the near future but could not rule out shortcomings/problems in the long term. It was also noted that this foam insulation potentially traps moisture to hidden roof timbers and potentially hides defects. In addition, it makes it difficult to locate and carry out repairs to the roof.
January 2020 – Towards the end of last year we were horrified to discover spray foam insulation in the roof of a Grade II Listed property during a Building Survey. As our surveyor noted in his report, this would contravene Listed building policy and it is likely that it would be necessary to have it removed which is difficult and very costly. Caution is advised when thinking of installing this type of insulation in any property.