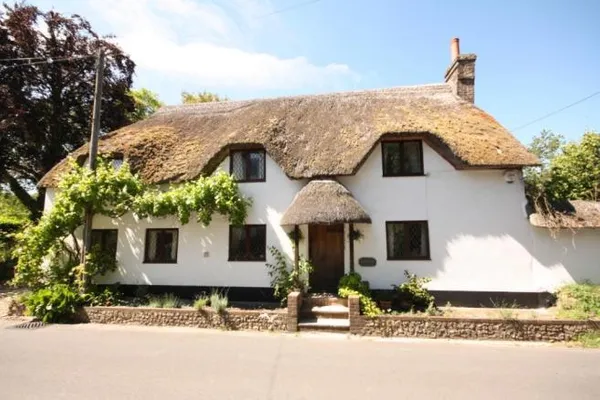 A significant contribution to the character of the West Country including Dorset are the commonly seen cob walled buildings. The oldest example in Dorset of a cob house dates back to the 15th Century.
Cob is a mixture of earth built materials. There are two main types of cob material: chalk or a clay mix (including sand and gravel). Both these types of cob walling use straw to reinforce the material.
Cob buildings can be built directly off the ground without any foundations. Typical for many very old cob buildings. However it is best if the cob walls have a plinth at the bottom (made of brick or rubble) to provide extra support and weather protection.
Traditionally, the walls are faced with a smooth lime-based render for weather protection and finished with a lime-washed off white colour.
Cob is particularly susceptible to excessive damp, neglect, and inappropriate repairs. As the structural stability can be easily undermined it is important to appreciate the following key principles.
Chalk cob is less forgiving to excess moisture, so it is important to maintain drainage channels around the outside of the building.
Cob has little intrinsic cohesion. This means that cob is very susceptible to impact damage such as knocking walls with sharp or heavy objects.
If cob walling has a plinth, it is important to avoid allowing a build-up of vegetative growth around the base. This allows the plinth to dry out. If it cannot dry out, it can lead to a build up of dampness penetrating and rising through the walls or even worse structural failure.
Adding too many windows/doors or increasing the size of window openings. Cob relies on its own mass to stay structurally supported, so removing cob can reduce the structural stability.
Ref Modern cement renders and repairs. The main cause for cob collapse/damage is twofold. Firstly, cement is too dense and heavy for the lighter cob, and eventually it will pull away and crack the wall. This leads to the second issue- dampness penetration. Cob, alone, can 'breath' allowing dampness to escape and the wall to dry. However, when covered in cement (which is relatively impermeable to water) will trap moisture in the walls. This can lead to slumping/failure of the wall, blowing of the wall, and possibly further damp issues internally.
How best to care for chalk cob?
Ensure your house has a good 'hat' and 'boots'. At the top of the building, i.e., the roof (the 'hat') must have a generous overhang to give adequate protection from dampness above. At the base of the walls (the 'boots'), the ground should be kept clear of vegetation and well drained with externa ground levels below internal floor levels.
NEVER apply cement render or impervious paints to cob. You should let the walls 'breathe'. Using permeable materials such as lime putty render, lime washes or mineral paints allow for moisture to escape from the walls. This also applies to the internal elements of the building. The internal main walls should also use lime plasters and mineral paints.
Repair cracks and holes in the cob with cob blocks or cob slurry. For best results, it is best to try and match the cob material as closely as possible to ensure consistency between the new repairs and old original wall.
If you want more personalised assistance with caring for your cob walls, or are considering buying a cob house, contact us at info@wessexsurveyors.co.uk or call us on 01308 426 471.