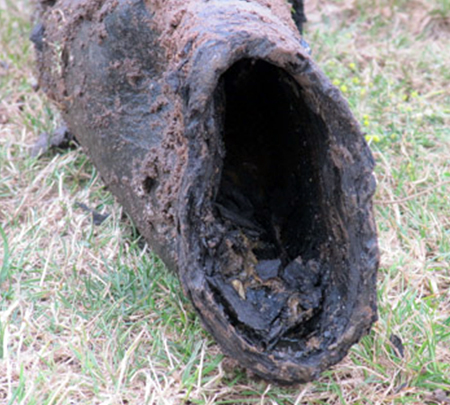 When recently carrying out a Building Survey on a Grade II Listed flat in West Bay the cover to the drainage chamber was lifted and pitch fibre drainage pipes were discovered.
Pitch fibre drainage pipes were introduced in the 1940s, and used extensively until the 1970s.
Manufactured in lengths of 8ft from wood fibre impregnated with coal tar, with push fit joints (no sealing rings), they offered a quick and easy installation with no need for the sand and cement haunching of joints associated with clay pipe work, bedded on sand they were thought to be a modern flexible drainage system.
However, the design life of pitch fibre pipes was recently estimated to be about 40 years, meaning that some will have reached the end of their life expectancy. At first, the internal wall blisters and de-laminates but in time they can collapse, blocking the drain run.
Delaminated and collapsed pitch-fibre pipes can be forced back into shape with a re-rounding tool dragged through them, they can then be lined with a resin-impregnated polyester textile liner which is designed to be strong enough to withstand further movement.
If deteriorating pitch fibre pipes are not attended to they will undoubtedly fail, leading to expensive excavation and renewal.
On 1 October 2011, water and sewerage companies in England and Wales became responsible for private sewers, which were previously the responsibility of property owners. This means that the ownership and maintenance for private sewers and lateral drains were transferred. However, not all private pipes were included. There are some cases where the property owners remain responsible for the sections of pipe between the property/building and the transferred private sewer or lateral drain. You or your legal adviser should gain further advice on this matter from the local sewerage provider.
It is possible that your insurance company will pay for the repair.  Insurance companies may at first refute your claim – if this happens please refer to http://www.financial-ombudsman.org/publications/technical_notes/pitch-fibre-pipes.html – some claims have been successfully decided in favour of the householder.