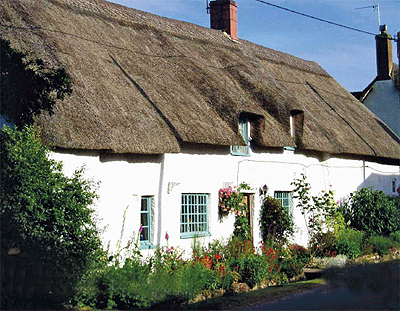 Thatched roofs under threat
In the next 20 years thatched roofs in rural England could disappear, Historic England warned recently.
Traditional thatching material is a straw made from long-stemmed winter wheat grown in the UK but harvests in 2019 and 2020 were poor, creating a shortage. This was exacerbated by less farmers wanting to grow this wheat which produces a lower grain yield than modern varieties, smaller farmers retiring and a labour shortage. The wheat needs to be harvested and processed using antiquated binding and threshing machines (sometimes more than 100 years old) and the whole process is hard work and time consuming. Storage is also an issue with space being more valued for business use and larger sums being paid for the space by offices and home delivery companies.
Some straw roofs are being replaced with water reed "another nail in the coffin of traditional straw thatching". There is dismay at the lack of enforcement by planning authorities when thatching materials are changed without consent, undermining the thatching straw industry by reducing demand for their crop and skills.
All may not be lost however as Historic England try to find a solution by working with the National Thatching Straw Growers Association and master craftsmen to lobby for investment, research and incentives to support the supply of traditional thatch material.
Meanwhile Historic England has issued advice to thatched property owners on how to maintain their thatched roof in this time of shortage, delaying the need for extensive re-thatching –
https://historicengland.org.uk/content/docs/advice/traditional-straw-thatching-times-of-shortage-context167-mar21/
https://historicengland.org.uk/advice/technical-advice/buildings/thatching-advice/#12313f6d